Visit our Web Sites: RealEstateWall.com – TheRealEstators.com – Sanford365.com – CafeConJose.com
——————————————————————————-
So for those of you who are curious, we would like to take a moment to introduce ourselves – and hopefully you'll feel like doing the same sometime when you drop us a line or give us a call 😉
One thing is for sure: we are very passionate about what we do! Since we are both full time Realtors, Claudia and I  breathe and talk real estate all the time!
Does it get boring? No! We like to switch and spice it up and to us every day is different.
Here's what we love so much about real estate:
Meeting new people from completely different backgrounds and nationalities every day
Being creative about the way we do and promote our business
Being our own boss (or you might say Claudia is mine and I am hers…)
And last but not least…helping people like you!
See, when we get testimonials like the following it motivates us even more to exceed each and every one of our customers' expectations…


And then we met Shaquille…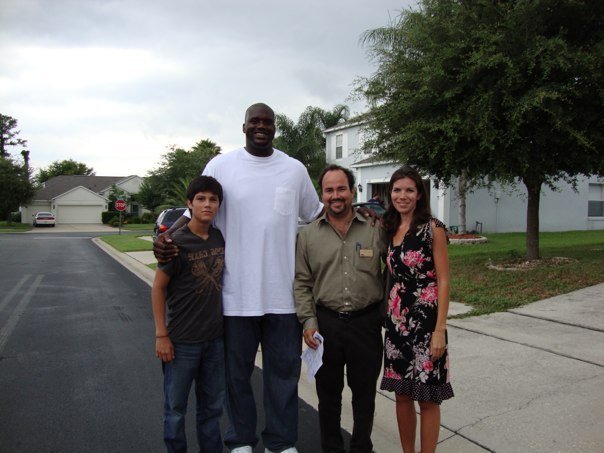 See, I told you no day is ever the same 😉 Here's us showing one of our Lake Mary listings to NBA star Shaquille O'Neal.
So here's a bit about ourselves:
Meet Jose:
Jose was born and raised in Villavicencio, Colombia. After graduating from college in Bogota in 1998 with a degree in Industrial Engineering, he decided to further his education in the USA.
As Paso Fino horse trainer and manager he earned a living while attending Murray State University in Murray, KY (yes, Kentucky, and yes, Murray IS a really small town!).  Jose graduated in 2002 with an MBA.
Jose is an avid runner and enjoys participating in 10K runs all over Central Florida. He also follows International Soccer, particularly his favorite team, Santa Fe from Bogota.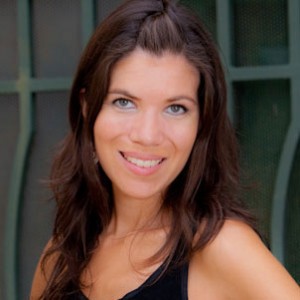 Meet Claudia
Claudia was raised in Ingolstadt, Germany where she graduated from Regensburg University with a BA in American Cultural Studies. During her studies she also attended Murray State University, yes, in that same little town where Jose was living at the time. (Germans can click here to read more about her experience as a German in the USA in this interview on The American Dream or here to read an interview with the Donaukurier newspaper).
Did you know? In 2015 and 2016, Claudia was featured in two TV shows on national German TV. On "Die Auswanderer" (VOX) she helped a German-American couple moving to the US with their home search in Orlando. On "Taff" (Pro7) she was featured in a documentary about life as an immigrant real estate agent in the US.
Claudia is member of the German Language, German Kids and German Girls Night Out groups on Meetup.
Meet Jose + Claudia
When Jose and Claudia met in the summer of 2002 they would probably have never imagined that 12 years from then they
would run a successful real estate business together
would be married to each other
would be parents to 2 precious little boys
they would live in Orlando, FL
So what happened?
Not long after Jose and Claudia met, Jose was offered a job in Orlando in 2003. Claudia soon followed him to Orlando, completing a 3 month internship at an advertising agency. After being together for about a year it was clear to them: they would not part!
Claudia left her life in Germany to move to Florida. Soon after she started her double major AS degree in Graphic and Web Design at Valencia Community College (she graduated in 2010).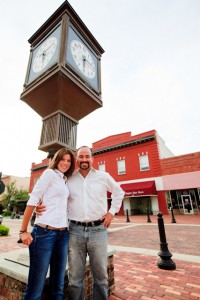 In 2004 the young couple moved to Sanford, FL where they now reside with son Nicolas (born 1/11/11) and Lukas (4/12/2013).
2004 also marked the year Jose earned his real estate license. He started as a sales associate at Watson Realty in Heathrow FL. By 2005 the couple had decided to jump full time into real estate.
In 2006 Jose and Claudia earned the Rookie of the Year award at Watson Heathrow and since then were one of the top sales teams company wide. When they decided to leave Watson Realty in the summer of 2011 they had become the top selling team at Watson Heathrow.
Jose and Claudia now work at Charles Rutenberg Realty in Orlando Florida. They have earned important designations over the years including Certified Distressed Property Expert (CDPE), GRI, ePro, ALHS and ASP, helping people like you reach their real estate goals:
the first time home buyer who needs guidance during the whole home buying process
the (young) family who is looking for their dream home
the family who just relocated to Orlando and needs help finding just the right neighborhood
the (first time) home buyers who need representation buying a new construction home
the single mom who needs to find a safe neighborhood for her and her child
the retired couple who is looking to downsize and sell/buy a home
the (foreign) investor who needs help finding just the right income producing property
the "underwater" home seller who needs to perform a short sale in order to avoid foreclosure
the (first time) home seller who is challenged by new market conditions
the home owner who wants to rent his/her property
YOU who _____________  ( — fill in the blank —)
…and the list goes on and on. As we said, Real Estate never gets boring for us!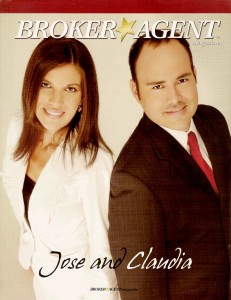 Read our feature in Broker Agent Magazine here.
This article tells our personal real estate story and highlights how we can help both buyers and sellers with all their real estate goals.
Our priority is to make all your real estate dreams come true!
In our free time you ask?
So what does a Realtor couple do in their free time? Believe is or not, we LOVE driving through neighborhoods and new construction communities exploring new possibilities for our buyers. After all, we are real estate matchmakers and need to make sure every one of our buyers finds not only the perfect home but also the perfect neighborhood for them!
Apart from that?
Well, as avid blogger and member of the Central Florida Lady Bloggers, 
Claudia
loves to blog at
Sanford365.com
, her community web site all about Sanford. In 2013 she was able to
donate $3,000 to a Sanford charity
thanks to her efforts with the Orlando Realtor Association.
Her other interests include design (mostly graphic and web), fashion, cooking (ok, recently started, must be the "mom gene" kicking in) and taking and sharing lots and lots of pictures (she loves to experiment with all of her cameras and lenses and recently also acquired a drone for aerial photography! She LOVES music (thank goodness for apps like Pandora and Spotify!) and could spend hours on her iPad.
Jose is not as versed as a blogger but still maintains his Spanish Real Estate Blog, CafeConJose.com. He is a huge soccer fan (Santa Fe of Bogota to be exact, but he will root for Bayern Munich when Claudia is around) and recently picked up running and swimming as a sport. He still is a fan of the Paso Fino horse breed and follows the national shows (sometimes even attending).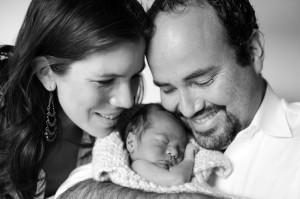 Jose and Claudia's common interests are obviously spending time together and as a family with their sons Nicolas and Lukas. One of their favorite weekend activities is visiting the Sanford Farmers market and strolling through historic Sanford afterwards (Ft Mellon Park playground included) or visiting the Lake Eola Farmers Market in Downtown Orlando for a picnic with friends. They also love to hang out with friends, be it at a local wine/beer bar, a community event or just at home on their back porch.
Every now and so often they travel to Colombia and Germany to visit their families. Traveling through Europe is always a highlight in their busy lives.
Click here to read a feature about Jose & Claudia on the local web site A Tribe Called Sanford where they dish about their lives in Sanford, FL…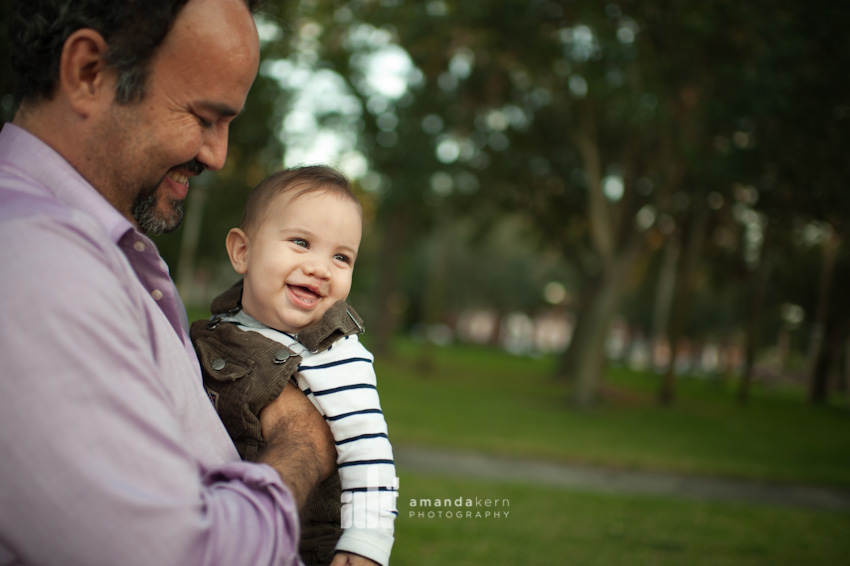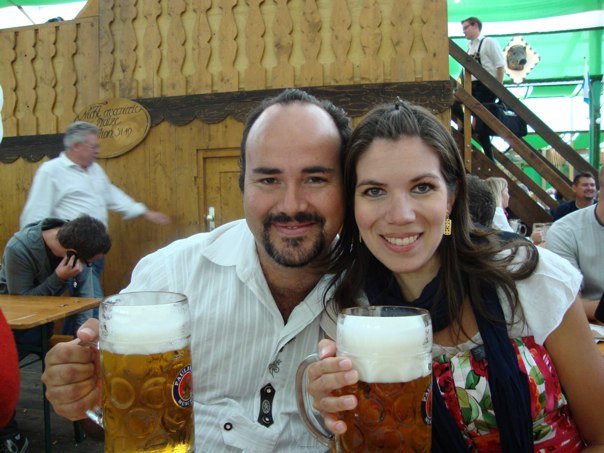 Sometimes real estate seems just a tad boring, doesn't it? We like to keep things simple enough so they can actually be enjoyable. It's kind of like the HGTV concept: watch an episode of House Hunters and you'll think, "Wow, this is actually easy! I can go out, look at 3 homes and pick the best one". Rest assured, it is not that easy and there is a lot of work to be done "behind the scenes". However, we strive to keep it easy for our customers so they can have the most enjoyable experience out of buying or selling a home.
We started the site as a first time home buyer guide – a no brainer since that's about 50% of our home buying customers. Today the site has also become a useful tool for most of our buyers and sellers as we offer one of Orlando's best home search and real estate data platforms as well as useful info about Orlando's neighborhoods. And the hard work paid off: our blog was voted Best Real Estate/Business Blog by Orlando Sentinel readers!
Orlandology
In 2012 we decided to produce our own little real estate TV show dubbed "Orlandology". We managed to film one episode before Claudia got pregnant (well, technically she already was while filming it…) and things got "busy" again in our lives. More episodes are definitely in the making so stay tuned.
Of course, for our pilot we decided to pick Sanford, since this is our own town and we literally know every corner of it (especially since Claudia is so involved with Sanford365). So without further ado, feel free to watch the entire show here below (disclaimer: get that popcorn ready, the segment is close to 25 minutes long!) or click here to watch the show in easy to digest mini webisodes, your choice 😉
Cheers,
Jose & Claudia
Charles Rutenberg Realty Orlando
407-340-6458

Ready to look for a home or thinking about selling and looking to compare recent sales prices? Our advanced map search is easy to use and puts you virtually in front of every listing in all of Central Florida. Start here!
Quick Resume
Jose & Claudia – Experience you can count on!
Members of the National Association of Realtors (NAR), Florida Association of Realtors (FAR) and Orlando Regional Realtor Association
Members of the International Council at ORRA
Members of Home Builder's Association of Metro Orlando
Watson Realty President's and Silver Pinnacle Awards
GRI – Graduate Realtor Institute
e-Pro Designation of NAR
Equator Platform Platinum, Short Sale Agent and REO Agent Certifications
ALHS – Accredited Luxury Home Specialist
ASP – Accredited Staging Professional
Prudential Certified Relocation Specialist
Leading Real Estate Companies of the World Relocation
Member of the Young Professional Network of NAR
New Home Specialists (Marketing inventory homes for builders like KB Homes, Ryland Homes and M/I Homes)
Certified New Home Co-Broker
Claudia
Background: BA American Cultural Studies & Marketing and AS Degree in Graphic/Multimedia Design
Internet Marketing Specialist
Member of Social Media Marketing Society (since 2016)
Languages: English, German, Spanish
Jose
Background: MBA, BA Industrial Engineering
Languages: English, Spanish
Find us here:
RealEstateWall.com | Like Us on Facebook
Become our Friend on Facebook:
We're very social…
Check out my YouTube Channel here
and last but not least, actually meet me in person on
Meetup.com
😉